Bright Annealed Semi Seamless Stainless Steel Tube / Pipe (Seam Integrated Tubes)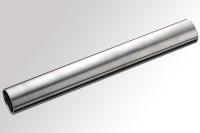 Semi Seamless Bright Annealed Stainless Steel Tube / Pipe
Product ID: BA-SEMI-SEAMLESS-TUBING
Bright Annealed Seam Integrated Tube / Pipe
Designed for critical and purity applications such as semiconductor manufacturing, Ding Ten's high purity tubing delivery of gases, chemicals and solvents, or use in ultra High vacuum piping for reducing out gas rate.

From advanced manufacturing processes, including special cold drawing and cold forged not just precision for sizes, but also enhance material substrutes density by cold forged process. The ID is cold drawing to a 15Ra(0.4µm) finished, by Hydrogen bright annealed process removed tube lubrication and optimum anti-corrosion ability, stress free, good mechanical properties follow by precision cleaning process to removed any residual contaminants, simulated natural light inspection at both ends verifies cleaning before the tubes are nitrogen purged and capped.
BA Tubing Spec.

Specifications:
Alloys: Stainless steel 304, 304L and 316L
Size Range: O.D. 1/4" to 6" (6.35-165.2mm)
Specification: ASTM A249, A269, A270, 3A and BPE standard, JIS G3447. G3459,
Length: 13"(4M)
Special or non-standard sizes available upon request
Order Information:
Minimum Order: Negotiable
Branded Product