DingTen Industrial Inc.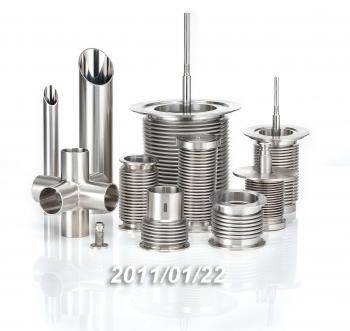 ISO 9001 Certifiated Manufacturer


http://www.dtisanitary.com.tw

Milestones
1994 (Establishment)
specialize in hygienic stainless steel tubing, and sanitary
equipment import/export
1997 Development ASME-BPE Tube for biotechnology industries.
2001 Manufacture stainless steel, Tubing, Bellows for semiconductor
and ultra high vacuum industries.
2004 Manufacture stainless steel tank and chamber for high
temperature and high pressure application.
2005 establishment of "VGF InP R&D Department"
2008 Set up InP factory, ISO 9001 Certificated Manufacturer
2009 Approved Cold Forged BA Tubing Patent. Awarded Funding CFBA Tubing Project from Ministry of Economic
2010 Approved Metal Vacuum Bellows Patent. Awarded Funding Super Bellows Project from Ministry of Economic

DTI specializes in hygienic stainless steel fittings, tubings, high
purity tubes, valves, filters, heat exchangers ever since its
establishment in 1994. Our products are suitable for the appliances
of food, beverage, cosmetics, bio-technology, pharmaceuticals,
vacuum and semiconductors from 1/4" up to 8".

Vacuum Fittings, Vacuum Components, Vacuum Valves are applied with MKS,
MDC, Nor-cal, Oerlikon Leybold, Varian, A&N corp, Edwards, Kurt J. Lesker
systemat at ultra high torr, high vac, high vacuum environment and ultra high vacuum.
[more]

News